Catalogs
As you peruse our catalog, you'll find a tapestry of blooms waiting to transform your gardens, landscapes, and outdoor spaces into a symphony of colour and fragrance. Whether you're an avid gardener seeking to infuse your sanctuary with life or a professional grower, landscape contractor, or garden centre looking for the finest for your projects, DeVroomen Bulb Canada stands as your steadfast companion in botanical excellence.
Join us in this flourishing adventure and experience the difference that dedication, expertise, and a passion for plants can make. Let's cultivate beauty, one bulb at a time.
Wholesale Growers
Bare root, tubers & bulbs in bulk
For full availability, order by:
November 27, 2023 (Plants) /
November 6, 2023 (Plants w/ tags)
Retail Garden Centre
BIO Based Retail Packaged Bulbs
For full availability, order by:
November 27, 2023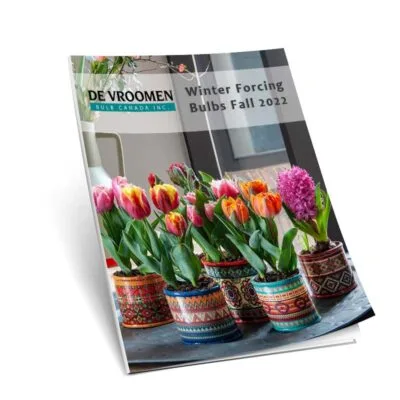 Winter Forcing Bulbs
Pre-chilled at 5°C for 12 weeks.
Sold Out
DeVroomen Bulb Canada: Your destination for high-quality flower bulbs
Welcome to DeVroomen Bulb Canada, your trusted source for premium flower bulbs. With a rich history spanning over six decades, we take pride in providing top-notch bulbs that transform gardens, landscapes, and commercial spaces across Canada. Our comprehensive catalog offers an extensive selection of autumn bulbs (spring bulbs) and summer bulbs, catering to both avid gardeners and professional entities in the horticulture industry.
Autumn bulbs (Spring-flowering)
Embrace the beauty of spring with our exquisite range of autumn bulbs. These gems are meticulously curated to ensure vibrant and blooming displays that herald the arrival of a new season. Our collection features an array of classics and unique varieties, including:
Tulips: Radiating elegance and charm, our tulip selection boasts an array of colours, shapes, and sizes. From traditional single blooms to whimsical parrot varieties, there's a tulip for every taste.
Daffodils: Celebrate spring's arrival with the sunny disposition of daffodils. Their cheerful blooms and distinct trumpet-shaped cups bring a burst of colour to any landscape.
Crocuses: These petite wonders are among the first to greet spring, providing early pops of colour in gardens and lawns. Choose from a spectrum of hues for a vibrant display.
Summer Bulbs
Elevate your summer garden with our carefully curated assortment of summer bulbs. From bold, tropical hues to delicate and fragrant blooms, our collection includes:
Gladiolus: Make a statement with towering spikes of gladiolus. These dramatic flowers are available in an array of captivating colours, perfect for creating stunning focal points.
Dahlias: Known for their diverse array of shapes and sizes, dahlias are a summer garden essential. Whether you prefer pom-pom blooms or intricate cactus varieties, we have it all.
Lilies: Grace and fragrance converge in our lily collection. Choose from Asiatic, Oriental, and Trumpet lilies to add an elegant touch to your summer landscape.
ORDERING FOR PROFESSIONALS: GROWERS, LANDSCAPE CONTRACTORS, AND GARDEN CENTRES
At DeVroomen Bulb Canada, we understand the unique needs of professional growers, landscape contractors, and garden centres. Our platform is tailored to streamline the ordering process, ensuring you have access to the highest quality bulbs for your projects. Here's how to get started:
Create an account: Begin by setting up an account on our website. Provide the necessary business information for verification.

Browse our catalog: Once verified, you'll gain access to our extensive catalog, complete with wholesale pricing and bulk ordering options.

Select your bulbs: Explore our categorized selection of autumn and summer bulbs. Choose the varieties that best suit your project requirements.

Customized orders: Have specific quantity or packaging needs? Our platform allows for customized orders to align with your project specifications.

Seamless checkout: Enjoy a hassle-free checkout process with secure payment options designed for professional transactions.

Fast and reliable shipping: We prioritize prompt delivery, ensuring your bulbs arrive in optimal condition and ready for planting.

Dedicated support: Our team of experts is on hand to provide tailored advice and assistance, ensuring your projects flourish with our premium bulbs.
Experience the DeVroomen Bulb Canada and elevate your gardens and landscapes with the finest quality flower bulbs. Place your order today and embark on a journey of horticultural excellence.